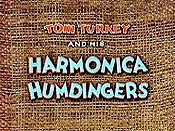 Tom Turkey and His Harmonica Humdingers
is a 1940 MGM cartoon directed by Hugh Harman.
Tom Turkey wanders over to the general store, his harmonica in hand. In no time he and the good ol' boys there begin a jam session on harmonicas (and one piccolo) that end up turning the store into a total wreck.
Tom and three of his friends play harmonicas continuously, and vigorously so vigorously that they wreck the local general store. And despite the attempts of one bird to keep playing "Dixie" on the flute, no matter what else is being played.