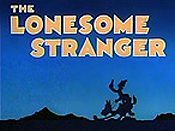 The Lonesome Stranger
is a 1940 MGM cartoon directed by Hugh Harman.
A spoof of the Lone Ranger. Three Mexican banditos shoot up a town and rob the stage. The Lonesome Stranger and his horse "Sa-liiiiiver" must stop them. However, this hero is less than heroic and ends up tied to a barrel of gunpowder with a lit fuse (along with "Sa-liiiiiiiver").
The Killer Diller Boys, three nasty banditos, come to town and kill the sheriff. The Lonesome Stranger (and his horse, Sliver), get a telegram, delivered by an Indian from Western Onion, telling them. (The Indian has "The Vanishing American" printed on his back, so of course, he vanishes.) They ride into town, where the gang is shooting up the bar. Stranger tries to sneak in, but they sneak behind him and steal his guns; he ends up tied to a barrel of gunpowder as the bad guys ride off to rob the stagecoach (announced by another telegram). Lonesome keeps calling for his horse, who is also tied up; the gunpowder goes off like a rocket, sending him crashing right into the gang (and stripping off his pants).