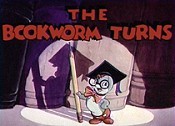 The Bookworm Turns
is a 1940 MGM cartoon directed by Hugh Harman.
Dr. Jekyll switches the brain of a bookworm into a dumb crow.
Poe's Raven, not feeling well, goes in search of a doctor, and in a nearby book finds Dr. Jekyll. The doctor offers to transfer the bookworm's brain to the raven.