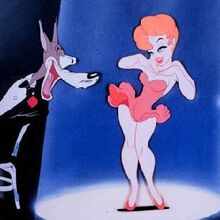 Red Hot Riding Hood is an animated cartoon short subject, directed by Tex Avery and released on May 8, 1943 by Metro-Goldwyn-Mayer. It is one of Avery's most popular cartoons, inspiring several of his own "sequel" shorts (which really were just shorts with a similar plot and the same characters, though notably Droopy was involved with many of the other shorts Wolfie and Red appear in) as well as influencing other cartoons and feature films for years afterward.
The story begins as a typical cutesy retelling of "Little Red Riding Hood"—that is, until the Big Bad Wolf, Red Riding Hood, and the Grandma complain about how tired the story has become and demand something more modern. The narrator obliges.
The cartoon then takes us to Hollywood, where the Big Bad Wolf is now a womanizer who frequents night clubs, Red is now an incredibly attractive singer and dancer, and her Granny is a hotel/implied brothel owner and an abhorrent admirer of Wolfie once she sees him.